Study Mode
Full time (3 years)
Part time (6 years)
Course overview
Do you want a career in sports injury management and treatment? Are you excited by the opportunity to work with athletes and sports teams?
Our BSc in Sports Therapy and Rehabilitation is a practically-focused degree pathway that enables you to develop the knowledge and professional skills to work within the area of sport and exercise injury assessment, management and rehabilitation.
About this course
You'll study the human anatomy and physiology, looking at the mechanics of musculoskeletal injury. We'll teach the therapeutic methods used to promote healing and a return to activity and sport, while helping you to develop a critical understanding of theoretical and practically relevant issues for sports therapy and rehabilitation.
As an applied and vocational degree, there's a strong focus on giving you opportunities to apply your skills and knowledge to real-world situations and scenarios. You'll complete professional work placements as part of your degree, which give you the chance to gain valuable professional experience in a sports therapy and rehabilitation setting.
All this means that by the time you graduate, you'll have a critical understanding of the theoretical knowledge required by professionals working in sports therapy and rehabilitation.
Why study with us?
Develop a wide range of skills in the assessment and treatment of sports injury.
Apply what you've learnt in practical workshops and professional work placements.
Specialise in your favourite sports. We'll give you the opportunity to align your assessments and projects to the sports that interest you.
Accreditation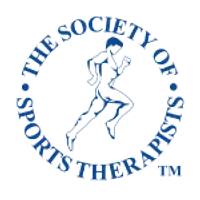 This course is accredited by the Society of Sports Therapists. Students who graduate from this course and fulfil the requirements of membership of the Society of Sports Therapists will be eligible for full membership of the Society.
Modules
You will study a variety of modules across your programme of study. The module details given below are subject to change and are the latest example of the curriculum available on this course of study.
Year 1
Core modules (students are required to take):
Introduction to Anatomy and Physiology
Fundamentals of Human Movement
Introduction to Sport Psychology
Functional Anatomy for Sport and Exercise Therapy
Skills for Sports Therapy
Professional Skills in Sport, Exercise and Health
Year 2
Core modules (students are required to take):
Physiology of Training
Assessment and Management of Peripheral Injuries
Applying Professional Skills in Sport, Exercise and Health
Sports Injury Rehabilitation
Research Methods and Enquiry
Year 3
Core modules (students are required to take):
Independent Project
Professional Learning Through Work
Sports Therapy in Practice
Interventions and S&C in Rehabilitation
Professional work placements
Experience matters. That's why we include professional work placements with every undergraduate degree.
How does it work?
Careers and Placements will work with you to find your perfect placement or help you arrange your own, whether that's in Leeds, another part of the UK or even abroad. You will be able to take part in a series of workshops, events and live 'employer challenges' to boost your confidence and prepare you for your placement.
During your placement, you will have an opportunity to gain degree-relevant work experience, build your knowledge of career sectors and secure valuable employer references and industry contacts. This experience will help you to shape your career decisions and find the right path for you.
As part of your studies, you will be asked to complete professional work placements, which will give you the chance to graduate with professional work experience. We will work with you to find placements that relate to a sports therapy and rehabilitation setting, as well as giving you plenty of preparation and support before you begin your placements. Previous students have been involved in a range of placement settings, including in gyms, physiotherapy clinics and performance sport teams including Batley Bulldogs RLFC and the Leeds United Development Squad.
To find out how we can help you make your career ambitions a reality, visit:
Chat with our students
Do you want to find out more about studying at Leeds Trinity University?
Ask our Student Ambassadors about what it's like to be part of the Leeds Trinity University community, chat to them about your course(s) of interest and hear more about their Leeds Trinity University student experience.
Chat with our students
Learning and Teaching
At Leeds Trinity we aim to provide an excellent student experience and provide you with the tools and support to help you achieve your academic, personal and professional potential.
Our Learning, Teaching and Assessment Strategy delivers excellence by providing the framework for:
high quality teaching
an engaging and inclusive approach to learning, assessment and achievement
a clear structure through which you progress in your academic studies, your personal development and towards professional-level employment or further study.
We have a strong reputation for developing student employability, supporting your development towards graduate employment, with relevant skills embedded throughout your programme of study.
We endeavour to develop curiosity, confidence, courage, ambition and aspiration in all students through the key themes in our Learning and Teaching Strategy:
Student Involvement and Engagement
Inclusion
Integrated Programme and Assessment Experience
Digital Literacy and Skills
Employability and Enterprise
To help you achieve your potential we emphasise learning as a collaborative process, with a range of student-led and real-world activities. This approach ensures that you fully engage in shaping your own learning, developing your critical thinking and reflective skills so that you can identify your own strengths and weaknesses, and use the extensive learning support system we offer to shape your own development.
We believe the secret to great learning and teaching is simple: it is about creating an inclusive learning experience that allows all students to thrive through:
Personalised support
Expert lecturers
Strong connections with employers
An international outlook
Understanding how to use tools and technology to support learning and development
Programme delivery
Your time on campus, learning through in-person teaching, is at the heart of your academic experience and the way we deliver our programmes. This is supported and further enhanced by additional engagement activities and opportunities provided online and through digital teaching materials. This blended approach seeks to ensure a positive learning and teaching student experience.
Your programme of study has been carefully designed around a three-phase model of delivery:
Preparation: You will be given clear tasks to support you in preparing for live teaching. This could include watching a short-pre-recorded lecture, reading a paper or text chapter or preparing other material for use in class.
Live: All your live teaching will be designed around active learning, providing you with valuable opportunities to build on preparation tasks, interact with staff and peers, and surface any misunderstandings.
Post: Follow-up activities will include opportunities for you to check understanding, for staff to receive feedback from you and your peers to inform subsequent sessions, and for you to apply learning to new situations or context.
Preparation, Live and Post teaching and learning and the digital materials used will vary by course, but will be designed to help you structure your learning, take a full and active part in your course, and apply and test your developing knowledge and skills.
Assessment
A variety of assessment methods are used, matched to the learning outcomes for your programme, allowing you to apply and demonstrate the full range of knowledge and skills that you have developed.
For more details on specific assessment methods for this course contact hello@leedstrinity.ac.uk
Entry Requirements
Leeds Trinity University is committed to recruiting students with talent and potential and who we feel will benefit greatly from their academic and non-academic experiences here. We treat every application on its own merits; we value highly the experience you illustrate in your personal statement.
Information about the large range of qualifications we accept, including A-Levels, BTECs and T Levels, can be found on our entry requirements page. If you need additional advice or are taking qualifications that are not covered in the information supplied, please contact our Admissions Office.
Entry requirements for this course:

| Qualification | Grade |
| --- | --- |
| UCAS tariff | 104-128 |
| GCSE requirements | GCSEs in English Language, Maths and Science at grade C/4 or above are required |
Fees and finance
Funding
UK Home Students:
Tuition fees cost £9,250 a year for this course in 2023/2024.
Part-time tuition fees will be prorated accordingly to the number of credits you're studying.
Depending on government policy, tuition fees may change in future years.
Tuition fees for 2024/25 entry will be set in summer 2023.
Living costs, e.g. accommodation, travel, food, will also need to be taken into consideration.
Leeds Trinity offers a range of bursaries and scholarships to help support students while you study.
International Students, including EU Students:
Visit our webpage for international students.
Part-time study is not available for international students on a Student Route Visa.
Additional costs
We advise students that there may be additional course costs in addition to annual tuition fees:
Recommended and required reading lists will be provided at the start of your course. All the books and e-books are available from our Library to borrow but you may choose to purchase your own.
On some courses there may be additional costs, such as field trips, equipment, accreditations, that may be part-funded by the University. More details will be provided at the start of the course.
You'll need to include placement/s travel and associated costs too, however the University will contribute a standard amount towards your total expenditure.
The University provides students with a £6 printing credit each academic year which can be topped up either on campus or online.
How to apply
For full-time undergraduate courses, you apply through UCAS. That's the University and Colleges Admissions Service.
On your application form, you'll need to know our institution code - it's L24 - and the course code. If you click through to the UCAS website using the button below, it'll take you to the right place with all the information you need.
You'll need to write a personal statement - we've prepared a guide to help you.
If you require a Student Route Visa in order to study in the UK, then you must meet all the conditions of your offer and present all supporting documentation required for the visa application no later than Friday 28 July 2023.
Although the main UCAS deadline has passed for 2023 entry, you can still apply until 30 June if you haven't applied yet or haven't used all five choices on UCAS. After this date, all applications will go through Clearing.
Alternatively, if you've used all your five choices, but received no offers or declined your offers, you may be eligible to add another choice through UCAS Extra. UCAS will send you information on UCAS Extra if you're eligible.
UCAS Extra opened on Thursday 23 February 2023 and closes on Tuesday 4 July 2023.
Applications are not yet open for courses starting in September 2024. You can register and start your application for 2024 from 16 May 2023, although you cannot submit it until later in the year. The UCAS application deadline for courses starting in September 2024 is 31 January 2024
There's lots more information about the application process on the UCAS website, or you can get in touch with our admissions team who will be happy to help:
call 0113 283 7123 (Monday to Thursday, 9.00am to 5.00pm, or Friday 9.00am to 4.00pm)
Graduate opportunities
Providing you with the opportunity to develop the professional skills and experience you need to launch your career is at the heart of everything we do at Leeds Trinity University.
You'll graduate with the knowledge and experience to become a professional sports therapist. You'll also be prepared for a range of roles related to sports injury management and treatment.
After you graduate, Careers and Placements will help you as you pursue your chosen career through our mentoring scheme, support with CV and interview preparation and access to graduate employability events.
To find out how we can help you make your career ambitions a reality, visit:
Sports Therapy Clinic
Our investment in the latest sports facilities, technology and services provide you with the best opportunities to learn key skills and gain hands-on experience in preparation for the workplace.
You'll use our dedicated Sports Therapy and Rehabilitation Clinic to develop your practical skills through directed teaching sessions and in your own time.
See our students using our Sports Therapy and Rehabilitation Clinic to develop their skills in musculoskeletal examination, assessment and rehabilitation.
What is Discover Uni?
Discover Uni is the official, authoritative source of information and guidance on higher education in the UK. The website allows you to search for and compare data and information on university and college programmes from across the UK.
It helps you make sense of all the information out there by linking to other quality resources and explaining what can be found where. It also allows you to search for and compare information and data for individual undergraduate courses across the UK.